Photographic Printing
Coloredge began as an elite photo processor back in the 1970's so there's no question that we continue to lead the way in photographic printing and services. And with ten lamda printers alone, it's fair to say we handle more photographic work than most anyone.
Duratrans
Any space can come vibrantly alive with custom fabricated lightboxes from Coloredge. From shoebox size to grand format covering a whole wall, we'll manufacture it, and make it simple to swap out graphics.
For the most popular fixture in use today — a light box using LED technology — we create a Duratrans image. But we also work with light boxes that use fluorescent bulbs, creating tack-sharp Duraclear images for them.
The basis of all great Duratrans work is of course the photographic process, for which Coloredge is world-renowned. Our digital photographic output produces smooth, realistic images for world-class clients, like the entire Verizon retail system, and Armani Exchange retail locations around the globe.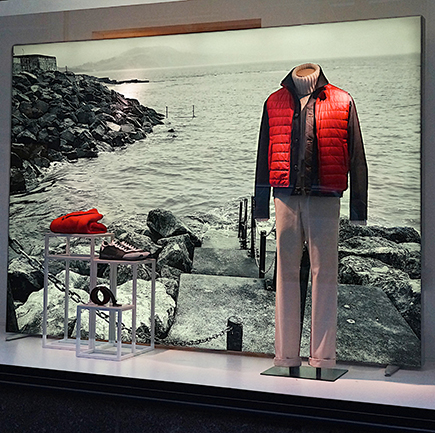 Dye-Sublimation
One of our most exciting custom products is a new Duratrans system using your image printed with dye sublimation onto a translucent flexible cloth. As opposed to regular photographic Duratrans images, which have to be shipped with great care and protection, these cloth images can simply be folded into an envelope and shipped inexpensively.
Even better, with a new and super-simple mounting system, employees on location merely have to stretch the cloth over the custom fitted frame and that's it. Perfection. No need to use outside installers.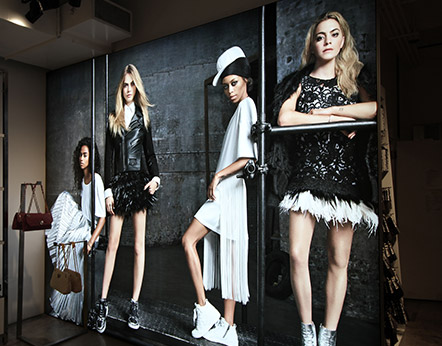 Image Processing
Processing is our legacy business. And what a legacy. No less a photographic luminary than Annie Liebovitz depended on Coloredge to process her infamous celebrity portraits and glossy magazine covers. Today, Coloredge still works with the brightest talents, producing images renowned for their resolution, luminosity, and faithfulness to the source.